High Season Pricing
Fuego del Mar, $4100/week.
Mariposa del Mar, $3200/week.
Brisa del Mar, $2100/week.
Includes the use of a car.
Guava suite add on, $500/week
Low Season Pricing
Fuego del Mar, $3200/week.
Mariposa del Mar, $2700/week.
Brisa del Mar, $1800/week.
Includes the use of a car.
Guava suite add on, $300/week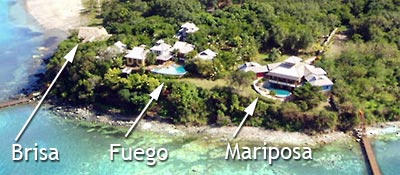 Request Your Reservation
Book any or all of the villas for your next special holiday.

Select Arrival Date to check availability of Villa(s)


Select Departure date for Villas(s) you wish to reserve

Check the Villa(s) you want to reserve and click the Request Booking button
Details
Price includes a car for you exclusive use during your stay
Prices include all utilities, airport transfers, maid service 3 times per week. Additional maid service $30 per day.
• Electricity is included in the price of the rental
• A 50% reservation deposit is due upon booking confirmation.
• A $500 refundable security deposit is required at booking confirmation.
   2023 Low season:
– May 1st to May 25th & Sept 5th to Sept 30th for Fuego Del Mar and Brisa del Mar.
– May 1st to May 25th & Sept 5th to Oct 30th for Mariposa del Mar.
Vehicles
There are four vehicles available over the entire property which are available on a first come first served basis. These include a Toyota Takoma 4 door pick up manual transmission, KIA Sorento 7 passenger automatic transmission, a Toyota Hi Lux double cab pick-up manual transmission and a Toyota Hi Ace 14 seater mini bus also manual transmission.
As a special promotion, your stay at Villas del Mar includes the use of one of our vehicles at no additional charge. In case of accident guests are responsible for the deductible and anything over the insured limit in terms of injuries/loss of life for not at fault third party accident victims. This will be negotiated with the local authorities not with Villas del Mar. We highly recommend using the driver at night or while driving after drinks.
Cooking Services
Our resident staff offers basic cooking services on a labor-only basis. Costs are $35.00 for breakfast, $45.00 for lunch, $45.00 for dinner, including meal preparation, table-setting, serving and cleaning up. This rate is for groups of up to six; larger groups will be charged a slightly higher rate. A collection of menus is provided for your approval. Arrange your meals on an as needed basis, and please pay the chef directly.
Please: No outside chefs, drivers or cleaning staff without prior permission
Additional Maid Service
Included with the villa rental fee is maid service, three times a week. Should you require further housekeeping services, please make your own arrangements with our staff. Daily rates are $30.00.
All additional services; ie, Chef, Spa, Boat Charter, Chaffeur, Pizza Night, Gift Shop, must be paid in cash at time of service. Sorry, they cannot accept credit cards, checks or travelers checks
PLEASE NOTE THE FOLLOWING CONDITIONS
• All air conditioner are set to 73 degrees.
• Guests may NOT reconfigure TV or sound systems for any reason.
• Be advised, passports must be valid for a minimum of 6 months past your last day of international travel (ie your return home date).
• We recomend guests taking travel insurance.
• Only the number of guests listed on the rental agreement will be accommodated.
• Any boat charters cancelled by guests within 2 hours of departure will incur a $50 charge to compensate the boat captain
Telephone Service
• 011-504-3309-9452 Fuego del Mar
• 011-504-3298-3854 Mariposa del Mar
• 011-504-3266-7765 Brisa del Mar
• The villas have 24/7 internet access for your convenience. No charge
Download Villas Del Mar Documents